Many people ask what it's like to go on a missions trip.  The following article is written by Janis, who recently came to Guatemala on her first missions trip.
Coming Down from the Mountaintop:  My week in Guatemala
by Janis B. Meredith Next Level Church/Ft. Myers, FL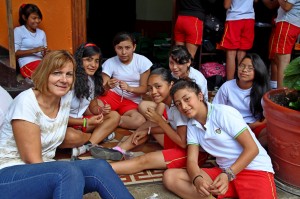 Last week I was in Guatemala with missionaries Randall and Jackie Darby and a missions team from Next Level Church. That trip has severely tested my communication skills.
As a full time writer, I am rarely at a loss for words. After all, words are my business I write 5-10 articles a week. I can whip up a 500 word blog post in 15 minutes. I know words.
But the trip I took in mid-October left me groping for ways to describe all that I've seen, heard and felt.
I imagine I feel somewhat like Moses after his mountaintop experience with God. How the heck was he able to come down off Mt. Sinai and explain to the Israelite what it felt like to be in the physical presence of God?
Guatemala has been my own sort of Mt. Sinai. No, it was not the physical presence of God as Moses experienced, but it was the very real and holy awareness of God's divine work in Guatemalan lives. During my week there I experienced God's presence in a way that shook me, and often left me speechless.
Sure, I can give you the facts. I can tell you about the joy on the faces of the pastor and his wife after we redecorated the main office and kitchen of their simple, small church.
I can tell you about the poverty-stricken children who attend a government school because they cannot afford Guatemala's public schools. They handed out smiles and hugs eagerly, as if unaffected by their plight.
I can describe the sadness of seeing women go to work each day in their tiny, dirty prostitute cubicles just to support themselves and their children. And the joy of seeing them come hear about God's love at El Oasis, a simple two-room oasis located smack dab in the middle of this horrific street.
I can show you pictures of a roomful of Guatemalan women in a crude tin-roofed church who were overjoyed when we gave them a lovingly planned ladies luncheon.
I can explain how families who live in and around the city dump send their preschoolers to the "dump daycare," better known as the House of Benjamin, while they comb through garbage for anything that will help them exist. And the smiles and laughter on the faces of those kids as we played with them.
I can tell you about abused 12-17 year-old girls at "Lilly's Kids" who came to Lilly's home with small children, bruised bodies and shredded hearts. And the hope we felt even through our sadness as we sang and played and saw their faces light up.
I can show you the slide show of our trip, beautiful handmade Guatemalan gifts we brought home, and even let you read my daily trip journal.
But none of these descriptions or pictures will truly express what I felt and experienced that week. Because when I try to explain, if feels like I'm attempting to squeeze my big God into a tiny literary box so He fits our feeble understanding.
Sometimes there's just no way to effectively describe the supernatural.
God is at work in Guatemala through missionaries like Randall and Jackie and through thousands of other Christians who are laboring to shine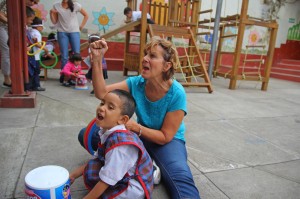 His love into some very dark and sad places.
And that week I was privileged to witness the supernatural in action. I felt the presence of God and sensed the powerful force of His hope as I have never felt it before.
Was my world rocked? My mind blown? My heart touched to its deepest level?
Yes. Yes. Yes.
But all that is useless if I don't come before God and ask one very important question.
What do you want me to do with all that I experienced in Guatemala? How can I, merely one person, make a difference in God's work?
It's one thing to have a holy, mind-blowing mountaintop experience; its quite another to let that experience change the everyday, routine valley of my life.
Believing that God can truly start with one person, the Darbys have launched a new area of ministry called Start With One. Their desire is the help people reach their God given potential by igniting passion and empowering  vision that will help transform lives in their community. The plan is to help people create renewable resources so they can help themselves and others.
As I return from my Mt. Sinai experience in Guatemala, I am committing to three things.
First, I will support God's work there through the Darbys.
Second, I will pray daily for their ministry in Guatemala.
And lastly, I am asking God to show me how he wants me to participate in His work here in Ft. Myers so that I may be an instrument of God's hope and healing in a very needy world.
I know that God's work in lives usually starts with one person deciding he or she can make a difference.  I can make a difference. You can make a difference. One person can make a difference.